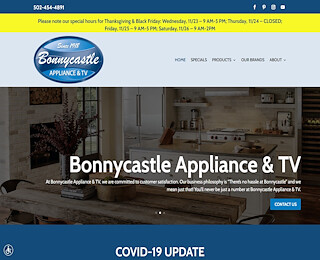 The leading manufacturer of the quietest, most efficient, and easiest to clean range hoods in the world comes from Vent A Hood and has continually maintained its specialization in kitchen ventilation, achieving the prestige of being known as the ultimate home kitchen ventilation brand throughout the entire appliance industry. If you are in the market for a home ventilation system, Bonnycastle Appliance & TV offers the largest inventory of the finest quality made and easily maintained Vent A Hood in Louisville. These amazing and unique ventilation systems offer a contemporary design that will add substantial value and beauty to your home and especially within your kitchen area.
At Bonnycastle Appliance & TV, we have a full selection of the perfect Vent A Hood in Louisville, and throughout the entire area, that will be sure to increase the quality of air throughout your entire house. Vent A Hood's Power Lung model captures cooking grease, and actively removes it from the air that you and your family breathe. The grease is actually captured and stored in a collecting tray that can easily be removed and thoroughly cleaned. This unique design ensures that the more interior surface is utilized to hold hot air and smoke, preventing it from escaping from the hood canopy and into the room.
At Bonnycastle Appliance & TV, our company's main goal is that we will treat you with the respect and dignity that you deserve and expect from us. Whether you are visiting us to make a purchase, or perhaps you are simply browsing through our showroom for some original new ideas for your kitchen space, we will provide our experience for a well informed choice. We proudly show our highest level of customer service and strong work ethic in every product that we sell, and service that we provide. When you place your trust in us, we will never knowingly disappoint you, and we feel that It is truly a privilege and an honor to serve you.
We also have a full staff of the most experienced and professional team members that all work together, in order to provide a unique and enjoyable experience for you when you are selecting your new household appliances. Everyone of our service and delivery experts are bonded and fully insured, and are held to the highest levels of customer excellence that we mandate throughout our company. We strive in showing our great appreciation and thanks to all of our valued clients for their years of loyalty and trust that they have bestowed upon us.
If you would like some additional information regarding the added beauty and value that a Vent A Hood in Louisville will provide to your home, Bonnycastle Appliance & TV would like to invite you to visit our web site at bonnycastleappliance.com, to view all of our quality made and long lasting household appliances, within the comfort and privacy of your own home. On our home page, you can leave your contact information and a message regarding the types of appliances that you are interested in. 
Vent A Hood Louisville
Bonnycastle Appliance & TV
5024544891
2460 Bardstown Rd, Louisville, KY 40205
View Larger Map