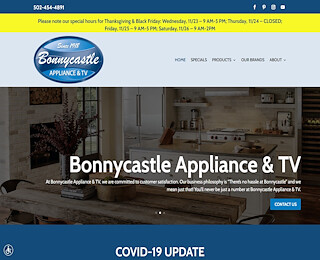 One essential item in every kitchen is the oven, and with more features and choices available to culinary enthusiasts, including the introduction of steam ovens and the continued popularity of convection, it is important to understand the benefits of each one, in order to select the right option for your style of cooking. The professional experts at Bonnycastle Appliance & TV can offer you the meaningful advise that will allow you to select the perfect Thermador range in Louisville that will meet and exceed all of your cooking requirements. Our amazing inventory will show you the endless possibilities of what a brand new range can present for the look and durability that you desire.
At Bonnycastle Appliance & TV, we have a full staff of experienced and highly trained team members that will advise you and guide you with the purchase of your exquisite Thermador range in Louisville, and throughout the entire area. It is extremely important to think about the size of the meals that you will be preparing in your new range. For example, a 30" built-in Thermador oven will easily fit a full sized baking sheet, while some of the 36" convection professional ranges are large enough to fit a commercial sized catering tray, which is an essential feature for those who enjoy hosting larger events. 
While traditional ranges draw moisture out of food as it cooks, in a steam oven, food is cooked in its own natural juices so there is no longer the need to cover your dishes in order to prevent your food from drying out. This also eliminates the need to add ingredients such as butter or oil to provide flavor and moisture, which is one of the reasons steam is considered to be a healthier method of cooking. Contrary to what many people believe, food cooked in a steam oven still comes out with crisp, golden brown edges. 
Interestingly, the introduction of the steam range has now led to cooking enthusiasts decreasing the usage of their microwave. This is because steam ovens are excellent at reheating food without over drying it. The moisture from the steam refreshes leftovers, such as pizza and pasta, preserving the taste and texture as though the item was freshly cooked. To get better results from your steam oven, consider a combination steam and convection oven, as these provide the option to use the appliance as a steam oven, as a traditional convection oven, or to combine the power of steam and convection together.
If you would like some additional information regarding a long lasting and quality made Thermador range in Louisville, Bonnycastle Appliance & TV would like to invite you to visit our web site at bonnycastleappliance.com, to learn more about all of the fascinating new appliances that we have throughout our inventory. On our home page, you can leave your contact information and a comment regarding which appliances you are interested in, and we'll get right back with you. You can also simply call us at 502.454.4891 and speak with one of our professional and experienced team members.
Thermador Range Louisville
Bonnycastle Appliance & TV
5024544891
2460 Bardstown Rd, Louisville, KY 40205
View Larger Map