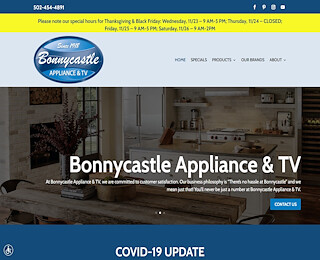 If your refrigerator is no longer running as proficiently and efficiently as it one did, this is the time to start thinking about purchasing a new one. If your refrigerator is not operating at its peak performance level, you could be putting your family's health at risk, because foods that are not continuously maintained at the proper temperature can unknowingly become contaminated by bacteria that can actually make you sick. You can also add several hundred dollars to you annual grocery bill by having to dispose of foods that have not lasted as long as they should have, because of poor storage. Bonnycastle Appliance & TV has the perfect Sub Zero refrigerator in Louisville that will meet and exceed all of your food storage solutions.
Bonnycastle Appliance & TV can offer our expert advise when it comes to your new Sub Zero refrigerator in Louisville, and throughout the entire area. We have a full team of qualified and experienced professionals that have over 200 years of combined experience within the appliance industry. Whether you need household appliances for your indoor activities, such as cooking and laundry, or perhaps you are interested in an outdoor kitchen for summertime entertainment and fun, we can expertly advise you on the best selection of the highest quality appliances that are sure to meet your needs.
We also offer a large and remarkable selection of other types of household appliances and state-of-the-art televisions that you may also be interested in, such as stainless steel ranges, cooktops and microwaves that offer the latest technology and the most original sleek and contemporary designs. If your family has been wanting a new TV, we offer the most affordable and technologically advanced 4K flat screen TV's that your family will absolutely be thrilled with. We also have beautiful and energy efficient dishwashers, coffee makers and even cappuccino and expresso machines that will add elegant style to your kitchen area.
At Bonnycastle Appliance & TV, we feel that the main reason for our continued success is in the way we treat all of our valued clients and present ourselves to you. Our company's main objective in to treat you with the respect and care that you deserve, and in the way we that would hope that our friends and families would also be treated. This is also why we absolutely guarantee that any appliance that you purchase from us will arrive to you in perfect condition, and professionally installed to your exact specifications.
If you would like some additional information on how a Sub Zero refrigerator in Louisville would benefit your kitchen and give beauty and long lasting endurance for years to come, Bonnycastle Appliance & TV would like to invite you to visit our web site at bonnycastleappliance.com and take a look at our huge inventory of the most quality made appliances that we offer. On our home page you can leave your contact information and a comment regarding which appliances you are interested in, or simply call us at 502.454.4891 for further information.
Sub Zero Refrigerator Louisville
Bonnycastle Appliance & TV
5024544891
2460 Bardstown Rd, Louisville, KY 40205
View Larger Map